here to awaken creativity within you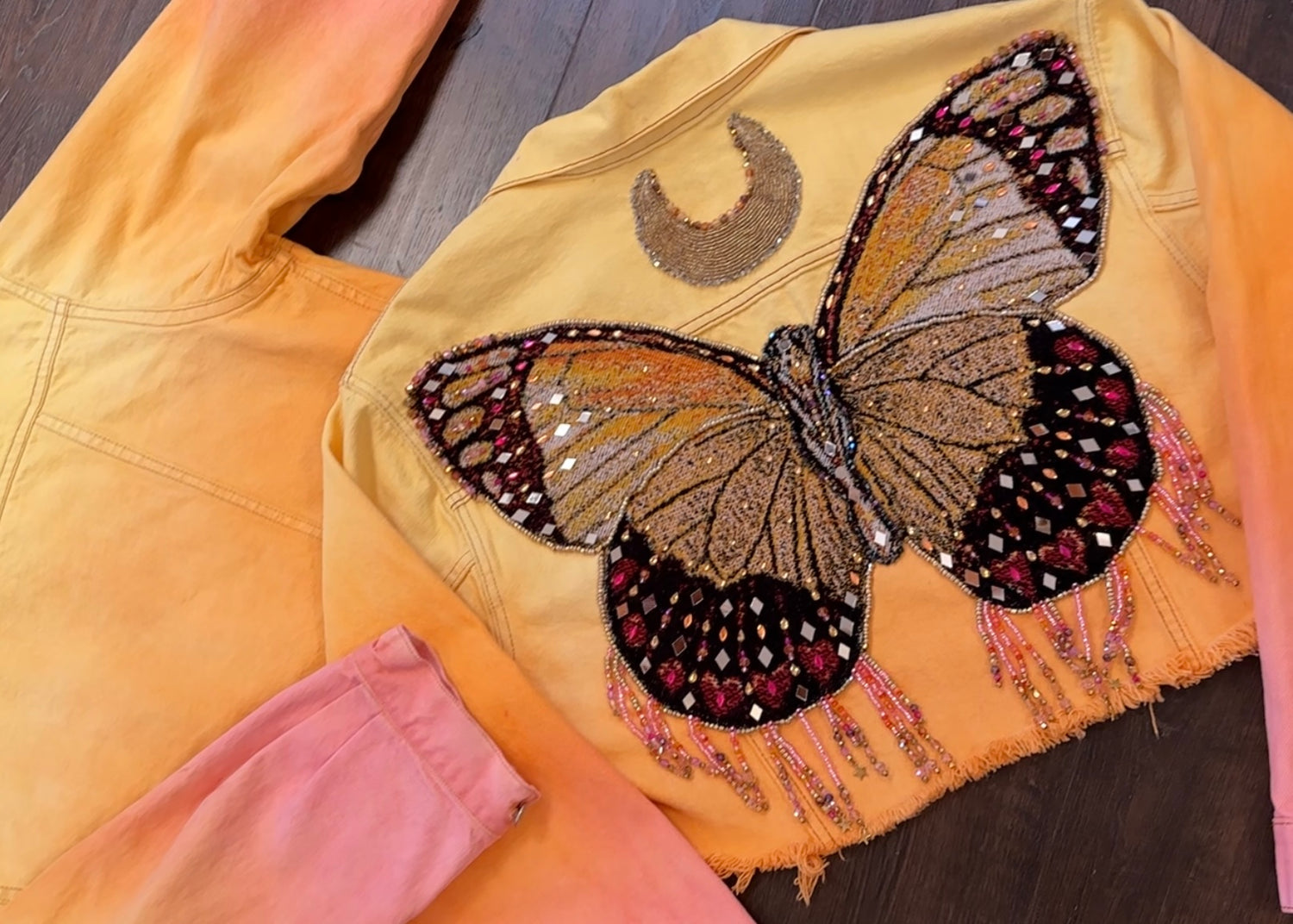 Learn How to Dye Denim
My newest online course will teach you how to transform standard blue denim into any color of the rainbow! With this technique the possibilities for denim transformations are endless.
shop ♡ courses
DIY Butterfly Jacket
♡ create your own ♡
Now you can dream up your very own butterfly jacket with my exclusive to DIY woven monarch patch and online tutorials designed to inspire you to upcycle denim and tap into your creativity!
discover your inner magic
Here you will find creations I make out of my home office in California. Designed to inspire a sense of wonder and evoke magic within. My designs are dreamt up from my childhood vision to hold imagination close and to always believe in the romance of fantasy.
One of a Kind Embellished Denim
Always designed on vintage or second hand denim, every jacket is intended to be a wearable art piece that's treasured for years to come. Designs are most often made to order, custom, and one of a kind. Sewn with love in my home office in California.
Bloom Butterfly
A design dreamt up from visions of California poppy superblooms. This design is extra embellished with vibrant beading colors to evoke the feeling of spring sunshine. Hand dyed and upcycled from vintage denim. Available in any size and customizable to your color preferences.
shop
Celestial Butterfly
The original Wild & Free Jewelry butterfly jacket design that started it all. This piece is extra special as it was first designed from a butterfly blanket my grandma gifted me. After teaching myself a few new skills, I am now able to offer replications of this sentimental piece.
shop
Handmade Mermaid Crowns
Adorn yourself with seashell treasures fit for a queen. These luxury designs take 5-10 hours to create and are intended to inspire goddess energy within you.
Make Your Own Mermaid Crown
Regular price
$ 59.00 USD
Regular price
Sale price
$ 59.00 USD
Unit price
per
Regular price
$ 32.00 USD
Regular price
Sale price
$ 32.00 USD
Unit price
per
Regular price
$ 49.00 USD
Regular price
Sale price
$ 49.00 USD
Unit price
per
Butterfly Crowns & Clips
These accessories will send you to the land of fairies. Adorn yourself with ethereal wings and embrace the art of play with these dreamy adornments.
Meet The Artist
Hi I'm Corina - for over a decade I've been sharing my creative vision and dreams through Wild & Free Jewelry. Throughout the years my creations have evolved from feather necklaces and flower crowns to mermaid crowns and jackets. While my designs have transformed during these different eras, the continuous dream has always been to create pieces that ignite a sense of wonder and imagination. 
What began as an Etsy shop in 2011 is now my full time career. For the first few years of my journey with Wild & Free Jewelry, I worked a full time job and attended college. After graduation I decided to take the leap and pursue my creative dreams. Ever since, I've been enamored with the process of creating designs for music festival lovers and brides who are seeking something extra magical for their special day. 
All designs are inspired by the idea that we are never too old to play dress up and that we must always remember to embrace the magic within. It's my hope that through my creations I can inspire you to welcome more creativity and wonder into your life. Whether it be pursuing your own creative dreams, or simply allowing for more creative play, I hope this virtual space reminds you to tap into the limitless potential you hold within to experience the magic. ♡